Ten years later
Tatiana Fedyaeva
President the Guild of Journalist,
writing about local governing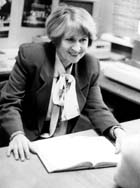 I was not at that first historical Independent Women Forum*. Though I heard about it and could take part in it. I didn't go. I was afraid of the word "Women board ". I never loved official social organizations. How could I imagine that somebody had managed to establish something really independent from suffocating arms of the state! I don't know how it is going in the capital or in other big cities, but I saw how 15-20 years ago women boards were established in the province, how candidates were thoroughly selected in the district committees, how women activists were charged to put into practice decisions of the Party and the government. Initiative wasn't welcome. Maximum independence allowed was work with listless families and sincere conversations with those husbands whose wives lodged a complaint about them in the trade union or the district committee bureau. And only in case the husband didn't take up a high post.
And we wanted to have real, serious good deal. It was in 1991. We talked about democracy, freedom, and freedom of speech. And again woman's councils? It seemed that it was not worth to divide people on the basis of their sex. You are just a human being! Whether you are man or woman - what's the difference? If you are honest, clever and competent, then all roads are open to you. We were a little embarrassed by the fact that among persons who taught us how to live and control all processes (it did not matter, whether at a small enterprise or on the State level) there were almost no women. But it was democracy everywhere! At last we were equal with everybody! We did not want any quotas - all these crutch for former participants of the election Marathons. We were so wonderful: educated, active, enterprising - it meant that we were about to reach everything. Women would enter the power and would raise the enterprises and… And nothing followed!
The first years of perestroika (reforms) showed that it was too early not only to speak but even to think about equality in rights and possibilities. Former communist party and young communist league leaders were the first in the privatization (you would not find women among oligarchs - though, may be, it is not so bad?), the power institutions - from local councils to parliament and government - include only men, as it was in former times. What does it mean? Does it mean that we are worse? But it is not so!
Nobody knows what events will make history and which ones, even very pompous and solemn, will be forgotten just after clinking of glasses at a celebrating party. Everything depends on what follows this or that event.
The First Independent Woman's Forum, held in Dubna (situated near Moscow) in spring of 1991, not only entered in the biography of Russia, but became a milestone in the lives of so many our contemporaries - women from the whole USSR. It was said and written a lot about the beginning of the movement and how this idea was born, though the press was unanimous in not noticing this event. Today all the marks are put down. The First Woman's Forum fixed creation of a principally new public movement, embracing tens of thousands of women nowadays.
During my work on this article I could not help paying attention to the list of forum participants. A prominent figure is behind every name! Everyone deserves a novel to write about. And how many events there were in the life of these women during the last years! Recollections of that, very first forum are the dearest for a lot of them. Here are remembrances of the forum participants.

Natalie Abubikirova, executive director of Association of crisis centers:
- Hardly probable that the forum should have taken place unless a feminist conference had been held and exhibition of women-artists had taken place on March 8, 1989; soon after them we, a number of their participants, created association SAFO (Free Association of Feminist Societies).Russian co-operators transmitted some money - it became a financial basis for the meeting. Majority of participants arrived at their own expense.
Lyubov Mikhailova, president of Independent organization of woman's initiative "Lubava":
- I heard about the coming forum over the radio. Who was the organizer, where it will take place - it was of no importance. The main thing was that women would gather on their own. It was not the government, which would select necessary or unnecessary. At once I decided to go there. I remember that the forum opened almost at the same time with the last Congress of the Supreme Soviet of the USSR, which cancelled the article of the State Constitution, stating the leading role of the (communist) party. In Moscow, where I had to change on my way from Kaluga to Dubna, I saw tanks. I was a little afraid. And forum hostesses from woman's board of the United Institute of nuclear research felt, I presume, more uncomfortable than we, common participants. But they did not give up. Sometimes I feel that almost all, whom I met there, became closer to me than my relatives. For the first time we felt that we are forces.


Olga Voronina, director of Moscow center of gender research, Candidate of Philosophical Science:
- If we try to return backward and remember 1991, it may seem to be a different epoch. At that time we lived in euphoria. The forum was really an independent one, at least from standards, which they always imposed on us.
Elena Kochkina, director of Woman's integrated program of the Institute "Open society":
- For the first time we discussed such themes as women status in politics, economics, we talked a lot about image of women in the mass media and culture, about discrimination of women in the USSR in various fields of life. It was a real revolution since it was direct critics of the policy of the State and of the Communist Party. Another window of publicity was opened.
***
By 1994, when we accumulated some experience in election campaigns, in participation in the legislative bodies, many women realized that it was almost impossible to do something serious, though we had associates and some resources. Whatever wonderful plans we proposed, whatever we did - everything incomprehensibly sank in the corridors of men- functionaries.
I arrived at Dubna, where we had a conference of Women-voters, late at night. Except a lonely figure there was no one on the platform. I approached the figure:
- Somewhere in a rest house there is a conference of feminists, will you, please, tell me how to get there?
The woman shrank back from me:
- You also are going there? To American lesbians?
- No, you may be did not understand me, I meant the feminists.
- And what is this feminism? Is it not the same as I said? You ruined Russia, robbed it.
Later I clarified that my accidental interlocutress was a journalist. She gave me a lift to the place of meeting, apologized for sharp words and even proposed to me to speak over the radio, and I did it soon after. But some ideas came: if even journalists from the mass media did not understand what was it, what could we demand of the common people? And everything begins from the word. So, the necessity of enlightenment and education of not only women but of the society in general, beginning from the mass media, was discussed by the conferees in Dubna. It was clear that a tremendous work was ahead of us.
Elena Kochkina:
- Our state is based on corporate interests - the majority of citizens, including women, do not take part in the process of governing. In many questions women have viewpoints quite different from the men's ones - in questions, connected with violence, war and peace, alternative service to the army one, trade of people, pornography and prostitution, health of women and contraception. Many men are not ready to apprehend this different viewpoint.
Olga Voronina:
- The point is that today women in power practically are not connected with woman's movement, they do not rely on it. Leaders do not emerge from the movement and institutions of power consider women, first of all, as executors and service staff. Experience of so many countries proves that without active role of the state advancement of women to the structures of power is a hard-hitting task.
***
The past years for many of us were the time of many severe trials.
Galina Belgorodskaya, chairman of Kaluga region public organization "Repatriation", member of the Council of immigrant organizations under the Chairman of the State Duma of RF:
- I attended the second forum in Dubna. There were a number of sections. I took part in the work of a political one. I remember that one of the delegates could not stand it any more and said: "Why are we sitting at our desks? We should take power! Let's go!" But Elizaveta Bozhkova, chairman of the meeting, - at that time she was a deputy and knew better the subject - suddenly put a question: "And what do you need this power for? Do you know what to do with this power? Really, what to do? And how?"
During the Soviet time I was a deputy in the Dushanbe City Council. It seemed that we held some power in our hands. We invented the following way out for Russian-speaking refugees from the belligerent republic: we would establish a society, uniting about thirty thousand families, would help to sign agreements and then would take out the people to Russia, where we would get land for new settlements. We could realize only one third of the forethought. If women headed movements the results were much better. Probably, because we are better tuned up for the deeds, but men more admire themselves in the politics?
There is settlement Lomovoye in Lipetsk region. Olimpiada Ignatenko heads it. They built houses, roads, created new jobs. In Pereyaslavl-Zalessky, where Elena Slavinskaya heads the branch of Fund "Sootechestvenniky", they not only created new jobs, but also began issuing own newspaper for children!
Carrier is alien to me. Whether I come to power or not, but our settlement Novosyel, which some people nickname after my Christian name as Galiningrad, was built. I am afraid even to recollect what we had to pass through…
Woman's movement is necessary to prepare activists, who will devote themselves to public work, prepare them for a very serious, minute and ungrateful work.
Lyubov Mikhaylova:
- For the last ten years we had a lot of troubles - we are all bumps. We came to know what treachery was (since only close ones betray). We understood that it was not possible to establish relations only on the basis of "I want to change the world for the better". All this is very shaky and everyone has his own view of "the better". How many severe trials we underwent! There is no need to mention it - everybody knows. Struggle for power includes not only discussions, but also shootings and murders. And still something changes in the society. Formerly the word "feminist" was almost a swearword. And nowadays everybody in the power knows what gender approach means. Though, it is easier to teach new words than to change the conscience. I would give an example: once we, leaders of woman's public organizations, attended a seminar in the Moscow City Administration. We talked about role of women in politics, development of stratagem of woman's movement. In conclusion, on behalf of Mayor Jury Luzhkov they gave us with some gifts: perfume "Playful girl" decorated with frivolous bows. May be, it was by chance, but I don't think so. It was like a hint: whatever you do is a mere fun. Somebody said that in politics, like in prison, there were only men. Consequently, the view of life is one-sided. It is very profitable for somebody to keep this status of society.
I got acquainted with so many wonderful people thanks to woman's movement. I extended my knowledge and would like to share it with the others. I would like to open a personal library with unique literature. The very participation in woman's movement taught me that giving something to somebody makes you richer.

Elizaveta Bozhkova, Director of Information Center, Independent Woman's Forum:
- - Personally for me ten years are connected with big changes. I completely engaged in public activity and left my professional one. Upon organization of Information Center of Independent Woman's Forum (IC IWF) we created a wide information network and nowadays we formed a stable demand for information on woman's movement and send it to hundreds of addresses. Every day we receive inquiries and not only from woman's organizations.
Formerly a slogan was declared: "Think globally, act locally!" We try to follow it in our activity. The majority of our projects are oriented on the local level. And we try to work not in exclusive circle but invite the administration and legal authorities of the territories where the seminar is held. Yes, probably, a woman will be elected a deputy. What's then? The legislative power is more and more limited. Public organizations should realize it and take responsibility for making decisions. In reality, we can do a lot and we have done a lot. The main thing is that we could influence the public opinion. Such themes, which formerly were the closed ones, as violence in family, trade of women etc, are now under discussion. A mechanism of cooperation with foreign woman's organizations was worked out - it did not exist earlier. Even active development of publishing business should be regarded as a merit of woman's organizations. There are serious woman's magazines such as "Dialogue", "Woman Plus…". Only IC IWF issued hundreds of its bulletins.
Participation in the World conference on women's status in Beijing in 1995 gave to all of us a lot; 55 women - more than one forth of the Russian delegation - were representatives of independent organizations. For the first time we witnessed the work of governmental delegations on an international level. We succeeded in formulating problems, facing the countries of the post-Soviet area, and nowadays we work over them. We pay more attention to woman's initiatives in local communities on questions of ecology, local self-governing and education.
Nadezhda Shvedova, Doctor Political Science, co-Chairman ROO "Doverie":
- The most important among what we have done for the last years is the attempt to generalize our own experience. I consider as negative the fact that the woman's movement has nunnery-elitist character and is disunited. Centripetal forces are active, but we are short of political will to achieve common objects, close for different woman's groups, whether they are liberals, social democrats or communists. Only by united efforts it is possible to destroy discriminative practice. In the old days I was the author of the Code of Honor for woman's movement. Principals, formulated in it, are urgent nowadays.
Tamara Ivashkevich, member of organizational committee of Independent Woman's Forum (2002) in Dubna:
- The present forum aimed at discussion of woman's movement stratagem for the last ten years. Many conferees agreed that today the development goes on, in general, at the expense of regional woman's organizations. In the capital and other big cities the theoretical and scientific knowledge is accumulated and the work is generalized. We may consider as a positive result the appearance of woman's movement leaders on a national level. Delegates of the first forum Larissa Piyasheva and Nadezhda Shvedova are famous scientists, journalist Nadezhda Azhguikhina became Secretary of the Union of Journalists of Russia (for the first time in many decades this post is occupied by a woman). Elena Kochkina became the head of Woman's network program of the Fund of Soros. Many others became deputies of local and regional institutions of power. Today we may say that a network of gender centers was formed. Gender research is made in a number of universities: in Ivanovo, Tver, and Barnaul. But our main objective is strengthening of woman's movement (and, consequently, of the society in general) with the help of education. Development of information network, establishment of partners' relations with other sectors of the civil society - these are the priority objectives we are facing nowadays. Its forms and methods can be quite various.
For example, they can include the methods, described by Elena Bozhkova in her speech at the forum, i. e. introduction of gender approach to the city policy. This program embrace a number of towns, where woman's organizations work hand in hand with administration, deputies, various enterprises and independent public organizations.

Elena Kochkina:
- In spring of 1993 Ludmila Zavadskaya, deputy, representing "Women of Russia", defended Article 19, item 3, of our main law on equal rights and equal possibilities for men and women. Since that time the groups, representing "Women of Russia", Union of Women of Russia, Institute of the State and Law, Consortium of woman's non-governmental unions and a lot of others, work on gender expertise of legislation. The results of their work laid the foundation of the Federal policy towards women starting from 1995; during this period the parliament passed the Concept of legislative activity on providing equal rights and equal possibilities for men and women and nowadays a new bill on equal rights and equal possibilities is drafted, the bill, which was impossible 10 years ago. Co-operation in solving problems of violence was established with the state and international organizations and a sort of peoples' diplomacy is in the process of forming. It is important that woman's movement gave rise to a group of qualified experts, who successfully work on both national and international level, including the World Bank, European Union and UN, where lately they set about speaking of woman's problems in the countries with transition economy.
***
The last decade demands a serious analysis and comprehension. At least because before going forward one has to know the starting point. Not to get stuck in the mistakes and miscalculations of the past. My interlocutresses, whom I had the honor to talk to personally or to quote their views according to their publications in the press, are unanimous: the foundation for development of the woman's movement was laid. As for me, I am mostly inspired by the fact that journalists became interested in the woman's themes and not only regarding contests of beauty or stories about fine culinary and art of cookery, but in some serious reflections on rising the role of women in the society. It concerns both regional , local publications and the central ones. They are not just interested in the subject, they want to get serious, systematic knowledge. And journalists always reflects the expectations of the society. It is important not to betray this expectations.
---
*Total report on work of the First Independent Woman's Forum you can see: http://owl.ru/win/books/1st_forum/index.htm