Forgive me for this war...
How often, meeting with refugees and dwellers from Chechnya, Ludmila repeated this phrase! And once she heard in response: "And you forgive..." - and then she realized that she had done what she could. We publish extracts from Ludmila Pavlichenko's letter.
Ludmila Pavlichenco has been working in the organization Union "Women from the Don" in the city of Novocherkassk from the year 1996. She took part in different projects both as a participant and as a leader, coordinator.
Ludmila Pavlichenco: "...I don't know why but I am very interested in the Caucasus. I visited Chechnya, Ingushetia, Abkhazia, Georgia, Daghestan, North and South Ossetia; I had short trips over Azerbaijan and Armenia. I like Caucasus. Its people, traditions, mentality attract me very much.
I cooperate with inter-regional peacemaking organization "Echo of war" in Chechnya.
I am a coordinator of the project " Daghestan - the center of peacemaking". There we collaborate with Aishat Magomedova1, (League of protection of Mother and Child). I study a lot; now - at the St. Petersburg "Garmony" - an institute of psychiatry and psychoanalysis".
"One day my Chechen sister Zainap said: "You like my nation so much, may be, you could do something for it?" I answered that I could do little for her nation, but was able to do something for my people - I would tell them about this war. This is a part of my position".
"A war, as I see it, is an independent organism, which now is strong. It will die, like every living substance dies, but it does not depend on us; we are not able to influence it in some way. We have no choice but to wait that it will die earlier than we will".
"You called my deeds private peacemaking. And it is really similar to what is happening to me. You were right saying that the way I have chosen - to ignore acts of terrorism and crimes on the part of the Chechen people - is the only moral and possible one..."
"Caucasian forum1 charged me with the work in Tbilissi. During this time I became friends with Chechen refugees in Georgia. My God! What destinies, what events, what high spirits! Notwithstanding their sufferings, they show magnanimity, understanding and sympathy to me, Russian woman. Sometimes I felt myself a traitor, after all they were my enemies... Everything mixed up both in my life and in my head: Jesus and Allah, the Bible and the Koran. But it didn't destroy me but made me even stronger. And when I got into my car to go to Chechnya I crossed myself and said: "Bismilliagi..." ("Bless me" in the Chechen language) - and I felt myself invulnerable. The war deprived me of a monosemantic faith, of a single meaning attitude towards people and confused my own people with outsiders".
October, 2001
---
Mountains are like people
Ludmila Pavlichenco
Lately I had to make a long way along the Military Georgian road across a pass of 2300 meters high. Here I am in Daghestan, on the road to Botlih. It took us about 6 hours, as far as time is concerned, and as for distance it less than 200 kilometers. The mountains in Daghestan are quite unlike the mountains of Georgia and Ossetia. In Georgia the mountains are covered with vegetation, and they are beautiful because various trees give the mountains different colors: from yellow to brown, from pink to purple, from deep-green to light-green. In Daghestan the mountains seem higher, their alps are sharper and clearly viewed. It seems that harsh forbidding mountains of Daghestan make Daghestan mountain-dwellers rigorous, secret, courageous, firm and unable to complain. Their characters are legible and not smeared, clear like the outlines of their mountains. Daghestans are silent like mountains, only occasionally, as well as the mountains, they confide us their warm-heartedness and beauty, wit and charm. I had to understand whether people resemble the mountains or the mountains are like people.
It was spring when we were going to Botlih. Everything was in blossom in Daghestan. Pint peach, pear-trees with white flowers against the green, apricot flowers covered the ground with a white carpet. We passed many historical places: a big settlement Gimry - motherland of the imam Shamil, aul Ahulgo where in XIX century during the Caucasian war there were violent fights. From time to time we stopped on places where there was water and clear space to sit on. Aishat made us have a hearty meal repeating: "You must eat in the mountains". And we meekly ate. A strange joy came over us, we laughed a lot, though sometimes our ears became stuffed up because of the height. I constantly changed seats in order not to see the abyss under the wheels, closed my eyes in fear, and everybody laughed. The air in the mountains is specific, may be a little discharged; it penetrates into the lung somehow very easily, and even now I feel how it is settling in my body and brings cleanness, health, youth and vivacity.
Finally, we reached Botlih where there was an intrusion of the Chechen fighting-men. During our way Aishat said: "Botlih is the second Paris". Approaching Botlih we found that it was a large settlement, region center with a lot of shops, a post office, public call-boxes, lots of commercial hawker's stands. Steep streets resting just on somebody's gates. Very friendly people. Everybody says: "Welcome!", - and ask: "How are you?" Aishat explained that in winter the road to Botlih was closed and now people were not only glad to see the guests but glad to meet spring, arising new life. In Daghestan there are many places difficult of access, and I somehow quite clearly understood an anxious attitude towards a guest in Daghestan. We approached the house of Sakinat. He is a director of a factory which produced felt cloaks. At first, the factory was wiped out by bombing, then destroyed by fire during the "cleaning". Having fed us, Sakinat led us to the fabric situated nearby, in Rahat. It isn't the first time when I saw Sakinat and how many times had I heard her bitter story about the destroyed factory, people left without job, about her fears of the loss of production methods of making carpets and felt cloaks. Sakinat is astonishingly beautiful, and the years didn't touch her beauty. There is a lot of ideas, plans, rational considerations and 25-year experience in managing the factory in her beautiful head covered with a shawl. Sakinat told that before the war there were 600 felt cloaks in the factory warehouse; fighting-men took them to lay out trenches. Sakinat and her female friends displayed marvelous heroism during the war, but it was difficult to picture her at that time - she has too peaceful appearance. Peaceful, domestic and cozy.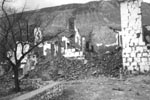 During conversations with her female friends the words of Sakinat sounded like a leitmotif: "How well we used to live!" And she meant not only the time before fighting-men' intrusion but also about the time before the perestroika. Daghestan countrymen who got after the reorganization freedom and publicity, didn't know what to do with it. It seems to me that their freedom is an ability and desire to work, and having lost it, they became less free. They didn't use the freedom of speech because they always speak little and their talks are simple and wise as the life itself; they don't need openness and somebody's permission. Having lost an opportunity to work fully for the welfare of their families, their settlement, Daghestan, they really lost freedom, and this loss wasn't at least partly compensated, as for city-dwellers, by the freedom of speech. And now the war took away the last opportunity to work. Sakinat for a long time was relating about the places where the bombs hit: she seem to know everything about that factory. She knows how and when each machine, each construction was destroyed. Sakinat was remembering, and remembering. The factory used to prosper. There were a lot of orders, felt cloaks sold as working clothes for cattlemen, as souvenirs. They were sold almost in cost price, and the State helped the factory to survive. They also produced carpets. Now the factory is reconstructed with the help of several Russian regions.
We see the Donkey's Ear mountain, a strategic height which was defended in terrible battles. We are looking at it with some new understanding of war and of its results. A new understanding is born here when you see people, gone through the war, hear about those who were killed and see the places of battles.
Along a narrow street we go to a premise which was rented for our project. It is difficult to rent a lodging in Botlih as the houses are not reconstructed after the war and many families live cooped up together. And according to the project the following thing is to happen: 32 schoolgirls with the help of famous masters are to perceive the technology of felt cloak production. And when the factory has opened there will be people to work at it. Famous all over Daghestan skilled workwomen will be in charge of the teaching. Sakinat and Patimat tell us how felt cloaks are made. None of us could even imagine the difficulty of this hand work. And the state of Pakinat's hands horrified us - a continuous bruise from an elbow down to a wrist. At first a special wool is chosen and combed; felt cloaks pile up three layers of specially combed wool. Felt cloaks are spilled by water and 8 women felt a felt cloak until it starts to keep the shape. Bruises of this work are never over! And in spite of the difficulty of such a work hundreds of people from nearby settlements are waiting for the reconstruction of the factory since it is a single place where they can work. Then we returned to Sakinat house and for a long time talked about the fates of the settlement women, so similar and at the same time so unlike our fates, about Sakinat's destiny. How oddly faith in God and faithful service to the Party were mixed in it. It's strange as it may seem, but it is this combination that makes Sakinat close and clear to me. We have dinner and fell asleep in a wide and comfortable bed.
In the morning we go to a small guards unit which, high in the mountains, took upon itself the first attack during the fighting men intrusion. We approach the barrier, ask a young sentinel to report to a senior officer about our arrival, and at the same time ask questions about life. We want to know about the life of our fellow-countrymen, give them modest gifts, make photos and, may be, to convey greetings to their relatives. While we were waiting for an admittance to the unit, guys ran and ran towards us, asking where we were from, what we came for, and rejoicing at us like at their relatives. Explosions were heard, but the boys calmed us: "Exercises". They enjoyed serving here, it was quiet for the moment. The food is good, there is no so called "non-service regulations" (when elder soldiers jeer at the novices) . Feeling sad they tell about their brother-soldier's death, adding: "Foolishly, ran upon his own wire-mine". For a long time we were talking with Kilishbi Ponezhev, the staff commander. He seemed to me clever, experienced, anxious. Possessing certain skills in psychology he used them while talking with soldiers and with us. We couldn't part with the soldiers for a long while. We are going back, keeping silence, thinking. The soldiers are entire children, our defenders, defenders of their Motherland.
We are returning to Makhachkala. For unknown reason the way back seems shorter and easier.
The materials are prepared for publishing
by Alla Denisova and Galina Grishina
---
1NPO (non-commercial organization) "Caucasian Forum" was founded in July, 1998, in the city of Nalchik. An establishment of the forum was caused by the necessity of coordination and energization of activity of NPO from Azerbaijan, Armenia, Georgia, Abhazia, Nagorny Karabah, South Ossetia and subjects of the South of Russia aimed at adjustment of the existing and prevention of possible interethnic and international conflicts. The aims and objects of the Forum are recorded in the Elbrus declaration, signed by its participants. The Forum is an open organization, compulsory membership is not supposed, the main demand is a devotion to the principles of the Elbrus declaration and constructive activity aimed at consolidation of interethnic accord and forming of civil society in the Caucasus. The Forum coordinates the activity of Caucasian NPO, engaged in different activities - peacemaking, humanitarian, legal, research, educational and rehabilitation. The Forum does not have constant premises - from July 2000 to July 2001 the office of the Forum was located in Tbilisi. (By the materials from the news paper "The North Ossetia", ?155 of August 14, 2001: http://sevos.alanianet.ru/08_01/14-2.htm)