Rich summer of 2002 (traveller's notes)
Nadezhda Azhguikhina
Secretary of the Journalist Union of Russia
Not long ago one of my acquaintances, a journalist, my former colleague in newspaper "Nezavisimaya Gazeta" nonplused me by a very simple question. He asked me to tell about the most interesting feminist meeting for the last time. It happened so that it was not easy to choose the best one even out from the meetings which I attended myself. And there were many other meetings, which, by all accounts of the participants, were very impressive and productive!
Most likely we passed already the stage when seldom discussion of women agenda was an event for the whole country and which was talked about later for a long time. Our today's reality is a persistent, many-sided and various process, including both round table conferences in small towns and ministries and traditional summer schools on gender research in different cities of the world. Also it includes international scientific symposia, global forums of activists, exhibitions, presentations, festivals… The geography of these meetings is really unlimited, sometimes they are held at the same time in different places, so one has to choose where to go. This very fact first of all proves that gender problems took strong stand both in intellectual discussions and in social movements. On the one hand, it is an obvious success, result of collective will and actions of the community. On the other hand, even a fleeting glance at the process cannot but excite some questions. So, I look through my notes.
Reoutov. Round table conference "Woman in the mass media: heroine and creator"
The conference in question took place under the aegis of the VII All-Russia festival of mass media in the last days of May, which allowed to consider this meeting to be quite a summer one. Women-journalists (and men-journalists) from different regions discussed practice of thematic publications and rubrics, problems of cooperation with women Non-Governmental Organizations (NGO) and with political parties. Representatives of NGO and political movements also took part in the conversation, proposing new initiatives for discussion in the mass media, for example, draft law on equal rights and equal possibilities (Consortium of Women NGO) or quotas for women in political parties (Social Democratic Party of Russia, Gorbachev-Fund). Surely, we talked about sexism, about forthcoming festival "Stop sexism" in Saint Petersburg, about appeal to the Big Jury of the Union of Journalists of Russia on the occasion of TV program "Masterpiece can be created only by man"(1). Certainly, we could not do without argument. Nevertheless, the organizers of the round table conference fulfilled their task: leaders of the Union of Journalists and professional journalists' community once more received confirmation that the woman theme in the mass media required a special attention, not less than the themes of corruption or elections; besides, participants stroked up new acquaintances, wrote down addresses of new experience - thus the network of interested colleagues was widened. There were more specific results of the meeting - a new regular rubric "Woman-journalist" was introduced in the monthly magazine "Journalist".
Could we have expected more of the festival? Public denunciation of sexism, say, during a plenary meeting and not during the round table conferences, since there were several of them at the same time? It was hardly possible since people came to the conference to have an intercourse festival but not a scientific conference. Nevertheless, in preparation of the next festival it is worth considering organization of more wide-ranging discussion of sexism or, may be, organization of the action of protest…
Tver. Seminar "Problems of gender censorship in mass media and culture"
It is very hot. On days off everybody, who stays in town, hurries to the Volga River beaches, to bathe, nevertheless, representatives of practically all Tver periodicals, radio and TV attend the seminar. The seminar is dedicated to discussion of a fresh issue of magazine "WE/ÌÛ. Dialogue of women", the gender censorship as a topic. Rather new definition for us but the topic is as old as the world, though it has some new features nowadays. The most important thing is to fix its description since they hide behind everyday life prejudice and cultural forms. The Tver women-journalists, employees of the Center of gender research of the Tver State University, relate a very interesting story on the subject. Svetlana Rouzleva, chief editor of "Tverskoy Courier" and Chairman of the Regional Association of women-journalists, who, together with Elena Gueveling, prepared such an interesting conversation, did succeed in it. It was a pity that Valya Uspenskaya, creator of the gender center, could not attend the meeting since she had broken a leg; we called on her with seminar participants. The atmosphere in Tver is wonderful, very creative and sincere. For a long time I was sure that the future of our community was not in Moscow gatherings but in real actions and in people of Russian country towns.
Moscow. Presentation of the Dictionary of gender terms
Issuing of the dictionary is one of the most impressing events of the season; quite different people still discuss it, including those who never heard anything about gender. Everything is due to TV programs and publications. To be more exact it is due to press release distributed by Agency of social information (ASI) to all mass media institutions. The press release promised to explain the meaning of some incomprehensible words, such as "fallologocentrism". I would like to congratulate ASI with a wonderful PR move, well done! As a consequence the auditorium of the Historical Museum was overcrowded.
Unfortunately, not all authors, speaking to the audience, could give prompt answers to the questions. Even famous scientists should learn it if they are interested that their new words reaches people's ears.
I shall not write anything about the dictionary - it is a separate subject, it deserves special publication. I can only say that the book is very popular: the first its copies were stolen right from working table. Very well! Let them help the just cause.
Irkutsk. IV International Forum "Women for the planet survival"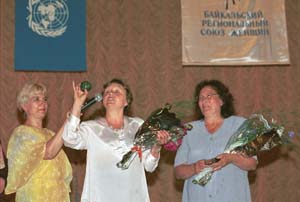 Albina Shirobokova invited me to come to the Forum three times but I managed to arrive only on the forth one. Immediately upon arrival in company of Mila Shprakh from Irkutsk TV and Olga Lipovskaya I came to the bank of the Baikal Lake to bow low to it since I did not visit the lake for several years. There I met wonderful people - old acquaintance and new ones. We need forums not only to take certain decisions or resolutions but also to discuss the years passed with people, who are close to you in spirit. We succeeded in it. The forum, judging from everything, was also a success. Among the participants there were quite different persons: mothers-founders of women movement Luba Shtileva, Marina Malisheva, Tatiana Melnikova; politicians and political scientists Ekaterina Lakhova, Svetlana Ayvazova; some novices, inexperienced in the subject and problem. May be, it is not bad at all since we live in a country where the majority of population knows nothing of the feminists, but we have to work with everybody. Round table conferences, studies in sections, headed by experienced experts, were useful to all the participants.
The Baikal Regional Union of Women "Angara" carries out very big work and once more it should be appreciated at its true value. Albina Shirobokova presented annual premium "Guardian of the Baikal" to the union on the scene where deputies, actors, young activists performed before… With great pleasure I would have presented this premium to her.
Dubna. Ten years of independent woman movement in Russia
Simple mentioning of this town makes to remember exciting air of the perestroika (reforming), first woman circles, independent forums of 1991-1992. These dates are already fixed in the works of Western women-researchers, they write Doctoral theses on beginning of woman movement, shoot films.
Tamara Ishkevitch and her friends from Woman informational educational center "Stimuli" decided to gather leaders of woman organizations of Russia and CIS countries for an open discussion of what happened with us for the last ten years. Discussion of the meeting aroused opposite views even on the stage of its preparation - somebody considered it premature, the others did not believe in possibility to gather today's leaders of woman movement. As a result those who had taken part in the first forum attended the present one. Unfortunately, not all of them. Nevertheless, the meeting was an impressive one; Valentina Konstantinova and Rita Belyakovskaya, who did not take part in stormy feminist discussions for a long time, and most active speakers of the last decade participated in the meeting. The conversation happened to be a rough one. From the first minutes of its work the parade-complementary intonation of some of the speakers grated upon ears: they reported about "unprecedented successes" of woman movement as about "victories" of party on a CPSU congress. But the movement was subjected to criticism and to very categorical one. "Tired feminists blamed the woman movement in complaisance and inability to unite women-compatriots; radical economists assured that law initiatives of women NGO in labor legislation caused direct damage to women… This discussion reminded desperate disputes ten years ago of objectives, purposes, ways and priorities. At that time we argued about it and never could reach agreement. So I felt sad. If we speak about the movement seriously it cannot exist without mutual though may be modest aims. It cannot do without national-wide actions, requirements and campaigns, which on the basis of mutual interest could unite different groups. For some reasons we do not succeed. Many organizations work very well in their thematic, many impressive samples of creative and social practice were created, some concrete success - the real one - was achieved in concrete spheres. But neither power nor wide women masses heard of the mutual will of woman NGO. What's the matter? Is the fault in our Russian mentality? In the lack of discipline or lack of leaders? In my brief speech I mentioned terrible trouble of our women, including leaders - lack of self-respect and belief in their importance and their success. I appealed to raise our voice to become a public force. To achieve all these we need to organize all-nation actions, campaigns. Possibly it will be festival "Stop sexism" in Saint Petersburg or campaign against violence, but it should be national-wide… There were few proposals, including proposal to return the world's unique professional woman radio station "Nadezhda" ("Hope"). Everybody supported the idea. But two months passed and nothing done on the matter…
Balie. Symposium "Freedom of speech and civil society in the countries of transition period"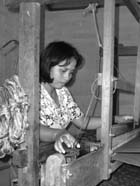 This island, lost in the Indonesia Archipelago (closer to Australia than to Eurasia), is fairly considered to be paradise of the planet. Wonderful sea, sand beaches, replaced by volcanic ones; palm trees, mangoes, unknown fragrant flowers, marvelous harmony musical instruments playing right on the beaches, gracious tiny women, who worked out their bearing for centuries of carrying jugs and other loads upon their heads… This place, which once became shelter for Hindus, forced out by Muslims from other islands, was chosen by Aspen-Institute for international symposium. The freedom of speech is discussed a lot and rather often nowadays, but for the first time the participants talked over structuring of the civil society and did not touch political problems and economics in connection with mass media. It was a discovery that not only former socialist countries but the South Africa, Chile and Philippines also live in the transition period and the problems of journalists are very much alike. For example, mass media lack of readiness and skill to write and broadcast about civil society and absence of adequate information about it. However, lack of skill of woman NGO to cooperate with journalists is almost the same everywhere. During the work the participants put forward some proposals of both national and international character. It's no wonder that the symposium women-participants rather quickly formed a "woman section" and advanced with initiative of mutual actions. The point is that in many countries woman NGO are well known, are active in their work and achieved a certain success in their relations with mass media. That's why it was proposed to develop their technology and to pass it to other movements. Summing up the symposium a small group comprising representatives of Russia, Indonesia, Nigeria, Egypt, China and Argentine decided to work out project of a travelling festival of woman NGO and mass media. The work was already started!
Tashkent - Samarkand - Bukhara - Nukus. Seminar "Health of women and rights of women"
Actually, the reproductive health of generations became the main subject of the meeting, initiated by Trans-national institute of family research. This topic is very pressing for Uzbekistan and, at the same time, rather difficult for discussion in our country, where during the last years the traditionalist tendencies grow stronger and where the official censorship was liquidated just recently. The seminar organizers found a very apt form for realization of their objectives. The main reports of guests (representatives from the USA, Iran, Mexico, Switzerland, Russia) were dedicated to successful practice of family planning in the countries with profound religious traditions. The report, made by professor Amir Mekhriyar from Teheran, on development of such programs in Iran and active participation of men in them, became a real sensation. The report, made by Susan Peak, head of similar project in Mexico, was not less impressive. Representatives of Uzbekistan research and medical centers, woman organizations from Tashkent, Samarkand, Bukhara and Nukus took an active part in the work of the seminar. Special sections were dedicated to education of the youth and parents through the means of the mass media. A book on the results of work is under preparation.
Saint Petersburg. Working meeting of the program "Gender policy in mass media"
Large-scale project of Woman network program of the Institute "Open society", dedicated to gender policy in mass media, was started a year ago. At that time representatives from 13 countries of the former USSR and Mongolia gathered in Alma-Ata to coordinate their activity in spreading gender education. As a result 12 gender schools and seminars for journalists in Georgia, Armenia, Mongolia, Uzbekistan, Kazakhstan, Kirghizstan, Azerbaijan and 13 documentary films were created. These very films were discussed by experts in Saint Petersburg to choose the best ones for gender collection; it was decided to propose this collection to TV channels of different countries, TV festivals and festivals of documentary films. The list of the best ones includes film of Azerbaijan cinematography "I want to have seven sons and one daughter" (director Ali-Issa Djabarov, scenario writer Mila Pharadzulaeva), Estonian film "Beauty of Motherland" (directors and scenario writers Yak Kilmi and Andreas Maymik), film from Uzbekistan "Women day-laborers" (director Tair Yunusov, scenario writer Furkhat Yavkalkhojaev), Georgian film "Invisible persons" (director and scenario writer Liana Djakely), film from Kirghizstan "Junction of two springs, red butterflies" (Guakhar Sydykova, Diliya Ruzieva, Svetlana Suslova) and Mongolian film "Tracery on silk" (author Uranchimag Nansalmaa). The other films are in the process of finishing off.
The final results of the project, which has no analogues, will be summed up by December.
Guadalakhara. International forum "Revision of globalization"
Association of Women in Development (AWID) is a largest network existing for 20 years. Its initial objective was to work out mechanism of support to women from the countries of the Third World; today it unites thousands of people practically on all the continents. The present meeting, which happened to be the 9-th one, gathered in the second biggest city of Mexico more than a thousand of men and women participants and is dedicated to the revision of globalization development - in other words to the attempt to change globalization features to be human and, in particular, woman's ones and to work out necessary stratagem of overcoming negative consequences of the world integration for women. At the first plenary meeting the association leaders announced their principal theses, confirming their belief that rights of women and their role in world development should acquire global character.
The meeting slogan was an appeal to imagine world without poverty, violence, discrimination, where all needs of everybody were taken into account and rights of every person were protected, where rights of women were a substance and, at the same time, a crown of development. "Imagine it and now make it to be the global agenda", - thus the appeal urged the participants.
The association proposed to concentrate the forthcoming campaign on several main points. The first one should include basic economic and social rights for everybody. The second one should comprise international recognition of all documents, stipulating to improve situation of women on all levels and in all countries. "We appeal to all the governments to ratify and fulfil the Beijing Plan of Action. In case there is no obvious progress in it the civil society should boycott the conference "Beijing + 10", - in such revolutionary manner that part of the appeal was concluded. The third thesis was addressed to international financial institutions, urging them to take into account interests of women and to give them access to all resources in working out macro economical programs. The forth thesis included appeal for peace and appeal to all feminists, state functionaries and religious figures to bar the use of nuclear weapon even in the name of war against terrorism. (By the way, actions against American policy in the Middle East lasted during all forum working days and American feminists took most active part in them). The fifth thesis was dedicated to universality of human rights, disgraced all fundamentalists and demanded to deprive the Catholic Church of the status of the UN observer. The theses "On responsibility of use of the latest technologies", "Equality is equity", "Variety" followed the principal ones.
All sections - there were more than one hundred of them - were held in energetic manner: the discussions and presentations were continued in corridors and halls. My attention was attracted by the exhibition of placards and by presentation of programs of Woman info library from Zagreb - the biggest informational feminist center in Eastern Europe, which set about a wide network in the region. I was very pleased to meet Geourgea Knezhevich, Director of the info library, and her compatriot Sanya Sarnavka, leader of famous Croat organization B. a. b. e., and many others. Delegations from countries of Eastern Europe and the former USSR were big enough - more than 120 women activists took part in sections and gathered in the mornings to attend Eastern Europe cocus (informal seminar). The first day of the seminar was dedicated to Central Europe, Kinga Lokhman, leader of KARAT-coalition, held the debate; the Balkan countries were the topic of the third day - as usual, the Yugoslav representatives were very sharp and precise. The second day, dedicated to us, the former USSR, was a real chaos. Despite the fact that prominent figures, leaders of well-known organizations from our countries were present at the meeting, they, as many years ago, could not participate in a common conversation or come to a mutual decision. May be, it was because in good time we did not think over what mutual subject to choose for discussion on the international level, or, may be, ten years of separatist tendencies, wounding even woman's NGO, told upon it. Though, for the sake of justice, it is necessary to say that not once the need of cooperation was studied, not once we discussed the necessity to preserve the Russian language as the contact language between our nations, to realize mutual projects and to create common cultural base, despite the fact that some sponsors did not like it.
I was very pleased to see that the cultural issues were discussed more often than it was usual for woman's conferences. At last the word and the image were recognized as instruments of feminist expansion along with political declarations and actions of protest. If we speak about revolution in minds and souls we cannot do without culture! We have to create our own, new literary and figurative worlds, paradigms and styles. I enjoyed a lot the fact that section "Gender censorship and world crisis", where Mereditt Tacks (USA), president of international writer's organization "Woman's world", Merrill Sala (Peru), leader of coalition of women-writers "Relat", Mirfua Tokhtakhojaeva, director of woman's info center from Tashkent, and myself took part in, attracted attention of women-participants from many countries and stimulated a long discussion, which lasted for all three days. A lot was said about the section, dedicated to young women, which Elena Mashkova, leader of Woman's public union "Femina" from Naberezhny Chelny, organized. It was a pity that our sections worked at the same time. During their section meetings Marina Malisheva, coordinator of gender programs of International Republican Institute, and Tatiana Zabelina, head of national research group, working under the aegis of Regional information campaign of UNIFEM in protection of rights of women "Life without violence, talked over economic development and struggle against home violence. Discussion on work of the World Bank in CIS countries and presentation of one of the films from gender collection of Woman's network program of the Institute "Open Society" also drew attention. On the last day of its work the community of women-participants from Eastern Europe prepared a statement. The first lines stressed that the term transition in our countries became a subject of manipulations on the part of different forces seeking to make profits from complications of the moment.
The statement reads: "We believe that our priorities are as follows:
immediate introduction of programs on education and support of young women-leaders, who are capable to develop ideas of gender equality;
mobilization of woman's movement as a new political force, which is able to lobby interests of women on local and global level;
continuation of work in education aimed at increasing civil conscience of the society;
requirement of openness and responsibility of all governments, business structures, international institutions (including charity, culture and mass media);
creation of accessible and socially sensible information area, area of culture;
development of idea of equal rights for everybody".
The statement includes questions of control over economy, stable development, social equality etc.
These are the right words. One question is still open - who will realize these priorities and how they will be realized? Will our Representative on human rights in Russia, committees in the State Duma, other official organizations and woman's NGO, spread out all over CIS countries, get to know these priorities? I hope that at least with participants of our East European sections we shall exchange information on who and how fulfils our mutual will.
Kazan - Phoros - Krakow - Erevan. Summer gender schools
I did not take part in the work of any of them. Listening to the stories I can only envy those who worked in these towns. Phoros long ago set an example of the highest in the region level of theory and methodology, nowadays it became a model for the others; the colleagues from Kazan school concentrated on the problem of legislation gender expertise; the Krakow school, as usual, covered a wide specter of problems; the Erevan one continued topics, which were considered last year. All is wonderful, we can only wish to have as many schools as possible, schools for different people, not only for researchers, but for young school teachers, for social workers, for policemen, for journalists, to say nothing of administration functionaries and deputies' contenders. Somebody would say it is quite naive - but why not? Didn't we consider absurd some quite simple things as annual clinical examination or computer training for civil servicemen in our time? We shall see what we shall see.
---
My copybooks and notebooks hurry up to fix new meetings and events. But recollections of hot months, despite withering heat and peat smoke over Moscow, are very fresh and pleasant. First of all, life confirmed that it would continue, that will and energy of those men and women, who wished to change something for better, were not spent for nothing, but were realized in some concrete deeds, that ideas, which gained even small groups of our compatriots, became a material force. Even if we do not understand it sometimes, even if we slip on the road and cannot work out the general stratagem, we shall learn to do it.