Women who are in power must be professional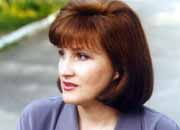 According to the information of sociologists, almost half of women doesn't include political and social carrier in the list of their vitally important plans, and women who consider that they have succeeded in this sphere amount to only 5%. "Active" women, who are interested in public and political affairs and have already shown or would like to show their worth in this sphere, amount to a little less than one third.
Unfortunately, active workers of the Soviet period compromised the idea of professionalism in public work, and for many people, who are over 40, fussy and importunate Shura, embracing her cast-iron horse, a heroine of Eldar Riazanov's film "Office love story", became an example of such "professional". Meanwhile, emerging and growth of the third sector - non-commercial organizations, realizing civil initiatives, initiatives from below, showed that social activity is not enough for achieving real results, and professional managers are essential in this sphere as well as in others.
The requirements to political activity are also changing. An elector more and more often connects his hopes with professionally trained candidates, hoping for their responsibility and independence in making serious state decisions on all levels.
All this directly concerns women, who have lately louder and louder stated their readiness and wish to share the burden of state power with men.
Valentina Cherevatenko is one of those few women, who not only consider public political affairs their business, but professionally succeeds in it. She has experience of work in local legislative bodies, is a creator and director of a large and influential regional public organization Union of the Don Women.
Valentina, you are a woman who is in power, a woman-leader: deputy, public figure in your region. What brought you to power: your character, ambitions, striving for ruling?
V.Ch.: I have always been engaged in public work, from the school time. But it was not a kind of "work" for me - it was my way of life. After graduating from the institute I started working as an assistant of a dispatcher, responsible for power supply at a plant, and active women were near me. At the end of the eightieth we for the first time held a plant conference of women and elected our own committee, which was not a formal structure. In 1991 there were events in Baku, and our man reservists were sent there. Making a protest, women in Shahti and Novocherkassk came out in the streets. And then the director of our plant rendered us a teletype and we sent a telegram to Michail Gorbachev, demanding to send back our men. We sent telegram after telegram to Moscow, we disturbed everybody, and we pressed for their return. Then many people understood, what meant civil activity and believed in the possibility of solving social problems.
In 1991 for the first time I became a deputy of the city council and suggested to establish a commission, considering women affairs, family, maternity and children protection. Earlier there were no similar structures in the system of the local legislative power, and we were asked: are you going to marry women? But the commission was established and consisted of 8 people - four men and four women, which quite met the requirements of gender equality in solving such important social questions. At that time I didn't know such words, I even didn't know what feminism was. And when vice-president of the city council for some reason asked me about my attitude to feminism, I answered: badly - to the word, well - to the idea.
And now?
V.Ch.: And now I say - I am a feminist and my ideology - equal rights and equal opportunities for men and women.
When I became a president of the women affairs commission, I started thinking about establishing of regional women organization and in 1993 initiated a calling of a Forum of the Don Women. We sent invitations, gave advertisements in news papers. 101 women attended our forum, and an organization Union of the Don Women (UDW) was established.
How many people are now involved in the activity of your organization?
V.Ch.: We have no fixed membership, but 25 associated members enter UDW - these are juridical persons and initiative groups of women form different towns and cities and districts of Rostovsky region. According to the most unassuming calculation, more than 2 thousand people follow the programs of our organization. Office of UDW in Novocherkassk has always been crowded - there were men and women, adult and young people, volunteers, specialists, experts.
Do men also work in the Union of Don Women?
V.Ch.: Yes, we always say that UDW is a women idea, supported by men.
Tell us about the main orientations of the organization work. V.Ch.: At first, it was common work with social organizations - assistance to children, to families who had many children. We tried to control women labour conditions, observance of labour legislation - we visited factories, solved housing problems.
In the present charter of our organization, which was accepted in 1998, struggle for equal rights for men and women, putting forward women to be in power and peacemaking were marked as priority-driven aims of our work. In 1995 we started talking about the war in Chechnya; then we understood that we could and should work at making peace in the Northern Caucasus. The first conference "Women for life without wars and violence!" took place in Rostov-na-Donu in November of 1996, then we set about our peace making missions, connected with Chechnya.
Peacemaking - is a creation of peace inside a man himself and only then around him. That is why rehabilitation of conflicts participants and people with post- stress syndrome we consider a very important objective of our work. Within a partnership project with Saint-Petersburg institute of psychotherapy and consulting "Harmony" we established a regional resources center. In our data bank there are about 40 psychologists; according to a competition we selected them for participation in the project, which aims are observation and assistance in overcoming of consequences of the stress, which a person can experience after taking part in the conflict, revealing a link between post-stress syndrome and violence in a family.
A division "Don-100" is based in our region. Military stations are special closed worlds, requiring special attention: nobody knows of the things, happening there. All the men of military stations pass through conflict zones, and many of them catch a virus of violence which they bring to their families. Military personnel wives came to UDW. We consult them, offer them to take part in special training, teach the methods of the first psychological aid. It is very important for them to diagnose state of a husband, son or brother and to urge them, if necessary, to address to a psychologist, and sometimes to a psychiatrist, in case the situation got out of hand.
We should mention, that now psychological services are established in military units. It is good of them to realize this necessity, but in my opinion, this good deed was stated wrongly. Psychologist should keep a secret everything he knows during the reception, but it is impossible in military structures. That is why people won't attend such a psychologist. And the main step is to understand that something is wrong and to come to a psychologist. Now we carry on negotiations with the headquarters of the military units and propose our assistance to military men, consult and render assistance to military psychologists. We work at hospitals with the wounded.
I consider this work very important within peacemaking activity - for those military men return to the conflict zones where common people live. Many things depend on whether they become less violent and in what state of mind they will serve there.
Moreover, we work with school teachers. We visited some regions of Chechnya and made researches there - interviews, focus-groups, questioning. Earlier UDW worked only with social organizations and made contracts with the government structures. But this time we directly addressed certain people and invited them to take part in a seminar, training professional assistants of psychologists. The teachers themselves were suffering women, who went through the horrors of war themselves, lost their homes, their families. We wanted Chechen people to know that there were Russian organizations studying Chechen problems, that many people didn't want this war to continue. Having worked with us they get initial psychological knowledge, experience and are able to help themselves and other people, and what is more important, they change: they are ready to talk, to make a compromise. They communicate with a wide range of people and share with them the knowledge and experience they got at the seminars. And the more we work with them, the more effective our peacemaking work is. Psychological aid, consulting and training of voluntary assistants, able to render first psychological aid, - is our know-how. We trained 20 people - -teachers from Chechnya, they returned to their schools and now help other people.
Do you think that peacemaking is women business? V.Ch.: I think that men can be engaged in it as well, but for some reason they don't do it. Only politicians are able to create conditions for peacemaking and a mechanism of solving conflicts, but only with the help of people and civil society it is possible to activate this mechanism. Peacemaking - is a social political process, where the contribution of politicians is a signed peace treaty, and the contribution of people is long work, aimed at establishing relations, which would make it possible to co-exist. And owing to more fortitude, patience, strive for stability, for keeping life, women show more initiative in it.
The experience of your organization, as well as experience of many other women organizations, shows what serious problems women can solve today. Meanwhile, due to historical development, Russian women are not experienced enough in political struggle and state governing (though there are much more women in local government bodies than in the center). How do you estimate the prospects of women, coming to power and their efficiency in this sphere?
V.Ch.: There are still many problems left. And one of them is that people are not ready to vote for women. During my own election campaign, being at a polling station, I heard how women striking my name off the list said: "What is it - a woman? She'd better cook a borsch at home". It offended me that these were women who talked like this. And on the part of men - the other extreme: in 1995 during the elections to the State Duma I visited small settlements and polling stations. One of the men, looking at my placards, said: "I can't help voting for such eyes". And it isn't a less offending approach to the election. On the other hand, we little use foreign women experience of election technologies. For example, I always wondered whether a voter was ready to put up money in his candidate, since this is a proof of deliberate choice. And all of us think that our voters are not ready for it; moreover, we know that candidates often buy the votes of the electorate. During my last election campaign I sent letters "A helping hand to Valentina" to social organizations of different regions. "We are a group, supporting Valentina, and we look for like-minded persons, volunteers, collect funds for her election campaign. This woman has no money contributions of rich sponsors, the mighty of this world, since Valentina always defends the interests of common people. Different people, whom Valentina helped, social organizations, rights defenders, peacemakers, soldiers' mothers know it very well. People like Valentina will have difficulties without your help. We are very grateful to you for any response". In such a way I collected 60 thousand rubles. This was the money of my voters, of Russian social organizations which supported me, considering me a representative of their interests.
Besides, women often cannot withstand a tough competition at the elections. And in political competitive struggle people strike swinging blows, irrespective to the sex. These are the game rules, and you must be ready for it. During the last elections men-rivals fought against me, using the same methods as against each other.
As for women efficiency in power… I would raise a question about competence of deputies as a whole and about necessity of their professional training. This is a serious problem, and as a deputy of institutions of local governing I tried to analyze the women opportunities in local governing sphere: the number of women-deputies, what new proposals they make, the level of their competence. Out of 960 deputies of local governing bodies of Rostovsky region women amount to 176 people; they are mainly teachers, doctors, journalists and public workers. When I became a deputy my experience in UDW helped me very much; if something was not clear to me I addressed to the experts of my organization and they helped me to understand, for example, what a plan of social development was, or what a budget process meant, how it was formed and at what stage I could participate in its working out. Since it was difficult for me, it seemed to me that others had the same difficulties. I saw that a big number of city deputies, including women-deputies, didn't know many things, as well as I didn't know them, but they have nowhere to address to for explanations.
So, in UDW we worked out a training program - a budget with public participation: what a budget is and how it can be influenced. In the first year we tried it with the deputies of the city Duma of Novocherkassk. Then we tried to get in touch with women-deputes of the other institutions of local governing. At first we sent about 50 invitations to attend a seminar to different cities. Discussing our problems we realized that holding of legislative and executive appointments often took place in local governing: many heads of administrations and majors of the cities were at the same time the heads of the city Dumas. As a result, they assembled the deputies once in three months, or even more seldom, and the deputies had nothing to do but to approve the decisions or laws post-factum.
When in one of the cities the major, and the Duma head at the same time, got to know that women-deputies were invited to attend our seminar, he strongly objected it, he said they had nothing to do there, they were educated enough. But women came all the same. And they proved to know nothing about the budget, they had never approved a plan of social economic development of the city and had no idea of the city privatization plan. They knew nothing about their rights and, thus, they were not able to act as deputies. So, local governing turned out to be a fiction.
That is why it occurred to me to organize an educational project for women-deputies of local governing institutions. It was worked out very quickly because we understood the importance of the problem. I came to the chairman of Legislative Assembly of Rostovsky region, asking to help us to prepare a letter of support, convoking all 176 women-deputies of Rostovsky region at Legislative Assembly, so that they saw and heard each other, discussed mutual problems. We proposed to make a research, studying the problems of deputies from local governing institutions, in order to define what difficulties they met with and to help them. Moreover, in UDW we proposed to organize psychological assistance to deputies. Really the change of status is very difficult for many women: a professional, respected person - doctor, teacher or school director becomes a deputy and understands that she can do nothing, because everything is decided beforehand. They should show their firmness, knowing their rights and possibilities: what can be discussed, changed, in what cases a referendum can be held or when they can address the citizens.
Does men competence differ from women one or both men and women are ignorant, and feeble?
V.Ch.: I don't see any difference…
Than why do you work only with women? V.Ch.: There are 900 deputies, and only 176 among them are women - this is a sphere of responsibility of the Union of Don Women. We declared that we help women, defend their rights and make them decision-makers. And when they become deputies, we render them educational, informational, psychological assistance, since they suffer from heavy burdens - deputy duties, family, work (as a rule women don't hold vacant posts and continue holding of more than one office).
We also shouldn't forget that there are a lot of men and only few women that is why each blunder is clearly seen. Women in power must be professionals, because they are whether during the next elections women are voted for or not.
Is there women component in politics?
V.Ch.: Yes, it is in the priorities, chosen by a woman. A woman may effectively work in different directions of the State politics, but today the questions of social policy are a priority for us and it happens because men, unfortunately, consider it of no importance. I think about the city policy concerning children not only because I am a mother but because children are tomorrow's citizens. If today we don't invest in children, we shall have get a city without future. Our city budget stipulates 1021 rubles to be spent annually for children, and almost all this money is spent on education. But according to budget break-down, these are oblique expenses, i.e. public utilities service payments, taxes, salaries, etc. Practically there is no direct funding of children leisure hours. We don't open children libraries, developing centers, but we are anxious about the growth of crime and of drug addiction. With difficulty we received a decision about working out a program "City - for children", including financing of the projects "Gifted children" and "Novocherkassk - the city of childhood", stipulating construction of sport grounds. The funds were allocated but certainly they were not enough.
You try to make women decision-makers. How do you train women leaders?
V.Ch.: For two years we worked with the project "Women in Russian politics", which objective was to show the success of women work, women organizations and women initiatives. Our aim was to reach every person. For two years we prepared radio programs "Women in Russian politics", TV programs, published books, bulletins and delivered them to the regions. We met with the electorate, introduced women, told about their affairs. And the amount of women among the deputies of local governing institutions increased by four percent.
Step by step, following the program "Women rights. Step by step" we started working with young people. One of the program subjects is violation of women rights in politics. Some young men and women became our volunteers. They were our subscribers, agitators, worked at polling stations. They are new people who will come after us.
As for training of the leaders… New women come to politics with their own aspirations, purposes, I don't want to impose my experience, my burden of problems on them. Their way may be quite different, and they may be more effective. But if they need my experience I am always ready to share it with them.
Besides, we organize training for those who is just going to enter politics, teach technologies of election campaigns, skill to carry on negotiations, to solve conflicts.
And I hope that at the next elections there will be much more women-candidates and they will score big successes.
The interview was prepared by Irina Rilnikova