PROTECTION OF WOMEN RIGHTS DURING GLOBALIZATION
Nataliya Bereznaya,
candidate of historical science,
president of the executive committee
of the association "Equality and Peace"


Kofy A.Annan, General secretary of the UNO, in his report about work of the United Nations Organization noted: "in all the countries which are under globalization no important problem we face can be solved within national limits. Interaction, partnership and cooperation between the governments, UNO, regional organizations, non-governmental organizations, private sector and society are needed for solving all these problems…"
In resulting documents of the International top level meeting "Providing of social development for everybody under global development all over the world", which took place in New-York in September 2000, the representatives of the international community announced their decision to start poverty control, to try to use globalization for the sake of all people on the Earth. Acceleration of economic growth in developing countries and countries with transitional economy should be achieved, taking into account peculiarities of their development, so that international community could attain the purposed object. The UNO actions aimed at reduction of poverty stipulate for an integral approach which takes into account human rights and includes such principals as justice, lack of ethnic, gender and geographic discrimination.
The participants of the meeting discussed that together with certain positive factors (a wider access to the markets, new methods of running a business), the devastating consequences of globalization, such as increasing of economic and social inequality within the countries and between them, are also evident.
Such organizations as UNO, the UNO Program of Development (UNOPD), Food and Agricultural Organization of UNO (FAO), United Nation Education, Science and Culture Organization (UNESCO), World Health protection Organization (WHO) and other organizations take active part in the movement against poverty, thoroughly study its initial causes and dynamics, work out affective methods of its reduction. UNO establishments take part in working out of the national strategies aimed at the poverty reduction in 60 countries. For the realization of these projects UNO closely cooperates with donors, non-governmental organizations and partners form private sector.
Habitat, UNO organization of inhabited locality, makes a significant contribution to proving women rights and extermination of poverty. Necessity of end-to-end solution of such problems as homelessness, unemployment, social isolation of women, children and marginal groups, is stressed in the closing declaration of the Second conference of this organization, which took place in June 2001, in New York. UNICEF (UNO Children Fund) considers education, and especially education of girls, the most foreground task aimed at children well-being and realization of their rights.
XXIV special session of the UNO General Assembly, which took place in Geneva, on June 26 - July 1, 2001, approved a global campaign aimed at extermination of poverty, concerted actions in the sphere of social development, education, nourishment, health protection and culture, and also spoke for assistance in providing equal rights for women and men and widening women opportunities. UNO International Women Fund development in women's interests actively works in this field; it attempts to strengthen the rights and economic potential of women, to change legal and normative regimes which would guarantee equal property rights and equal access to economic assets for women, to widen the governments' opportunities to regulate economic transition processes in ways which wouldn't cause marginal state of women, and to assist in forming budgets and macroeconomic policy with due regard of women's interests.
The world practice testifies that most effective protection of working women rights is seen in countries where governments seriously look upon fulfillment of international engagements aimed at protection of women rights, formulated in such documents as Convention about extermination of all forms of women discrimination, Beijing Declaration of Special Session of UNO Gender Assembly devoted to women problems, different conventions of International Labour Organization and others. In many countries non-governmental organizations establish special supervisory committees which control an accurate observance of regulations of these documents. Availability of an appropriate effective national mechanism, granted with a high state status and properly financed, is an important factor of observance of women rights.
Inequality between women and men directly affects women's health and education and their participation in social economic life. UNO considers it necessary to work out a complex approach, which would envisage the necessity of large-scale social, cultural and economic changes in addition to legal reforms, as well as would institute civil control over influence of globalization on women and children. An exchange of experience between different countries and regions is rather useful in such a case. Here is a clear example.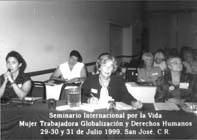 In July 1999 I took part in a sitting of the executive committee of International Women League for peace and freedom; during this session a seminar on protection of working women rights was held. The participants of the seminar discussed the situation in Costa Rica, where several companies from the USA and South Korea bought land and built there a number of factories producing small components for airplanes of "Boing" company, odorants for different perfume and cosmetic companies, microchips for electronic ware or the company "Sony". Local women who worked at these factories earned scanty wages and were kept in conditions similar to concentration camp. All their workweek they lived behind an iron wire without any opportunity to defend their rights. For the slightest fault they were fired without any indemnity. It continued for several years until the activists from the International Women League for peace and freedom drew attention of trade unions and world community to the current situation by their appearances in UNO Commission of human rights, at the conferences of International Labour Organization. Under the influence of world public opinion the government of Costa Rica limited the authorities of foreign companies and made them observe the norms on protection of working women rights.
Thanks to active actions of international non-governmental women organizations, the problems of working women became an object of discussion of the four international women conferences, held on UNO initiative, were considered at the Europe Council and other international forums. Yes, today women gained an opportunity to participate in the economic activity on their own, may easily make decisions about their employment. However, the success is not sufficient. Women wages all over the world amounts to an average of 70-80% of the men wages. Women do both paid and unpaid work. Their contribution often remains underestimated and unaccounted. Neglect of the consequences of macroeconomic policy concerning women negatively influences the process of development and causes social problems of economic growth, including worsening of living conditions.
International experience shows that important factors of providing the rights of working women during globalization are:
Knowledge of national and international legislatures, regulating the legal protection of women;
Ability to use these rights in practice and to defend them using all possible means, including strikes, pickets, etc.;
United actions of professional and other non-governmental organizations aimed at protection of working women rights.
In spite of the fact that a certain improvement of women status has recently taken shape in Russia, Russian women continue to face open or concealed discrimination, they still use the fruits of democratic reforms to a lesser degree. That is why for us, Russian women, it is important to understand what is the real situation in Russia, its place in the world, its possible ways to democratic society, where the rights of all citizens, including women and children, would be guaranteed in full measure. Only in this case harmonious development and stable peace will be possible in Russia.