The secret of Evgenia Vtorova
Anna Alchuk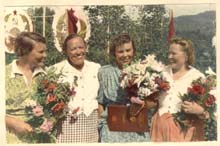 The photograph of 1950 pictures four massive cheerful women on the background of red banners, state emblems and pendants. Famous in the Soviet times sportswomen, sisters Vtorovs: Alexandra (born in 1907), Antonina (1909), Eugenia (1911) and Ludmila (1915) were winners of numerous competitions, both in teams and individually. One of the sisters - Ludmila - became a sort of Soviet icon since artist Alexander Deyneka chose her to be a model for his pictures.
History of life of any of these women is impressing and instructive. Unfortunately, only Eugenia Sergueyevna Vtorova is still alive nowadays. She was a participant of the very first sports competitions in the USSR, of the All-Union Sports Day in 1928, one of the first sportswomen of Russia, taking part in international competitions in Denmark and Sweden. Eugenia is twenty-times champion of the USSR in sportive and Marathon swimming, Honorable Master of Sport in Swimming, Honorable Judge of All-Union category; for 40 years she worked as a senior lecturer at the Chair of swimming of the Central State Institute of the Physical Culture; as a doctor she participated in the Second World War: she had a rank of major of Medical Corps and has many government awards, among which is the Order of Patriotic War (II Degree), Medal for Defense of Stalingrad, etc.
Despite the apoplectic stroke, which she suffered of quite recently, and the fact, that she is 91 years old, Eugenia appeared to be surprisingly vivid and open person. "It is right for me", - she said when I told her that it would be an interview for a feminist magazine. Really, all life of this woman was embodiment of woman's will, aspiration for victory despite any obstacles, completely denying stereotypes of "the weak gender". I presume that women like the sisters Vtorovs unwillingly served for strengthening of the existing at that time public order (whatever is our present attitude to it), for all that they contributed to the life of that time their sincere enthusiasm and elements of humanity, some positive beginnings - something, which makes our nostalgia for Soviet times more or less justified.
During the interview Eugenia Vtorova and her niece Tatiana (daughter of Alexandra), who also took part in conversation, showed wonderful photographs, which historical value it was difficult to overestimate.
Anna Alchuk: How did it happen that you, four sisters, went in for swimming? After all, there were two brothers in your family. Why did not they join you four?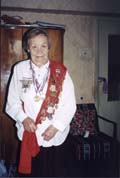 Eugenia Vtorova: We were not so close with our brothers as with ourselves. We lived in a big house close to the Nero lake in the town of Rostov-Yaroslavsky. Our father was a baker, supplying a famous Philipovs' bakery with barankas. By the way, he knew a professional secret, thanks to which the barankas did not get stale for a long time - you know, the barankas were to be delivered to Moscow. He was against our going in for sport. But when we, sisters, took part in a boat-race on our lake, daddy ran on the lakeside crying: "Girls, don't fall behind!" He did not know that we took part in the competition. And we won the boat-race and beat our opponents, the sisters Ganushins. It was my first sportive achievement. Later, when in 1928 we left to Moscow to participate in the Sports Day, we also did not tell him about our participation. On the contrary, our mother always supported us. Antonina won the first place in swimming the crawl and Alexandra was the second in swimming the sidestroke. Only then he came to know that his girls went in for sport.
A. A.: Did you really hitherto take part in all competitions of veterans of sport of Europe and world? I see the prize "Winner of Moscow veterans competition, dedicated to International Woman's Day of the 8-th of March", dated the year of 2000, i.e. when you were 89. What was the age of women you compete with?
E. V.: They were considerably younger but they would always repeat that they emulate myself. After all, until June, 2000 I swam in the swimming pool twice a week. And everything would have been wonderful if the doctors had not insisted on clinical examination. They made me to be examined. Before that examination I never visited the clinic, I was not even registered there before 1991. But the swimming pool staff demanded that I should be examined by all doctors and the doctors drove me to exhaustion. And then I fell ill for the first time, and rather seriously, if it were not my niece, who helped me a lot, I would not have got over.
A. A.: And who taught you swimming?
E. V.: Oh, it was a funny story! Alexandra and Antonina swam for a long time. Usually they were swimming around our boat but they would not take me to the water with them. Once I jumped to the boat, but missed, fell in the water and went to the bottom. Daddy saw it and he pulled me out. But I wanted to learn swimming, took a boat and alone went to the island. There were two women in the bathhouse, who began teaching: they took me to the deep waters and right away I swam.
A. A.: And who taught you swimming the crawl?
E. V.: t was already in Moscow, in the open swimming pool of the aquatic sports center "Dinamo". My first trainer was a man. Soon after we took part in the relay race "Four sisters Vtorovs against combined team of Moscow". We won the relay race. My next trainer was Galina Plechova, at that time we were in "Dinamo" team.
We went in for rowing, tennis, skis, but the main thing was swimming. Before the war there were so called military races when we had to swim in soldiers' uniform and high boots.
A. A.: What does it mean: "Marathon swimming race"? I see the prize "Champion of the USSR of 1939 in swimming at a distance of 25 km with result of 9 hours 49 minutes 40 seconds". Where did you have this swimming race?
E. V.: We swam in the sea, along the coast of the city of Sochi. There were big waves but I adapted myself to them. In the thirties during the race at a distance of 25 km I outran men.
A. A.: Did you meet artist Alexander Deyneka?
E. V.: I became acquainted with him when Lucy (Ludmila Vtorova, who was a model for Deyneka - A. A.) invited him to our place. He was a very handsome and imposing man.
And here is the photograph of a famous Fayzulin. He swam 200 km in the waters of the Danube. But he did not swim at a speed…
A. A.: As far as I know the USSR did not take part in Olympic Games before the war. But did you participate in international competitions?
E. V.: I was happy to join the first team for international competitions. Besides me, it included Klava Aleshina, Tonya Koloskova and four men. During this competition Aleshina was the first in the backstroke swimming, I took the first place in the crawl, Koloskova - in breast-stroke. It was in 1935. At that time we played water polo against men and won 2:1. Earlier my sisters Antonina and Alexandra visited Norway. As for 10 records of the world and Europe, I held them as veteran of sport in various age groups. They are recent results.
A. A.: Eugenia Sergueyevna, tell us, how did you go to the front?
E. V.: When I graduated from the Medical Institute (which I entered as soon as I graduated from the Institute of the Physical Culture) the war broke out. At that time I was already master of sports and I was sent to the city of Frunze. Upon arrival I came to the city park - in comparison with Moscow, where blackout was introduced and one could feel the close breath of war, the park was a real miracle: lights, music, dancing people. In Frunze I was proposed to become a lecturer at a Medical college. In order not to forget the practical medicine, at nights I became a doctor on duty at a clinic. At first, the experienced staff helped me a lot. I am very grateful to this wonderful people, who brought me up to date. I was very lucky, lecturers at the college and nurses at the hospital took care of me! In December 1941 I was sent to the front. My route came via Moscow. It was a good luck since when I came home, to Sadovaya-Karetnaya street, my neighbor said that district authorities wanted to occupy our flat. I said: "What is the matter? I go to the front and you want to take away my flat!" So the flat was reserved for us.
We arrived in Voronezh and there they taught us military science. After that I went to the front line. It was not far from Stalingrad. One of the HQ officers recognized me and said: "You are Vtorova? You are a sportswoman? We badly need doctors who can treat the lightly wounded and provide their prompt recovery for forwarding them to the front". So I was appointed a doctor in a mobile hospital for lightly wounded. I was moved from one military unit to another; our units took offensive and I followed them. I remember that once our hospital was positioned in steppe, in dugouts. We were four: I, the second doctor, nurse and medical attendant; the second doctor was pregnant. We had to go to the nearest railway station, which was 3 km from us, and a horrible snowstorm began, our dugout was covered by snow and we could not open the door. So we broke the window and with big difficulties we managed to reach the station to meet the train with wounded. It was a real torture. When later we came to the suburbs of Stalingrad, to the unit, where we should deploy our new hospital, I found that some wounded had typhus. As soon as the unit commander heard about typhus, we were isolated with these wounded in a dugout. It was swarm with lice, the work was a hard one, but we two succeeded. Later I was assigned to the unit, where doctors from Donbass served.
It always happened so that as soon as officers saw and recognized me they would say: "You are strong" and would immediately send me to the front line… Imagine, in the train with wounded I had to choose only those who could walk. When I was in the carriages' passages everybody would grasp me by my hand: "Choose me, only me!" But the train stopped for a minute. During this time I had to choose the wounded, who could jump out of the train on their own…Our hospital was very lucky. Once we evacuated our hospital from the river bank and five minutes later this very place was bombed. Or we were in a train and a bomb hit the neighboring carriage, but we survived…
When our troops approached Berlin I was called back to Moscow.
The next day upon my arrival I took part in championship of Moscow - swimming 400 meters. I do not remember how I swam, the main thing was that I reached the finish. And later I was appointed a doctor in a military unit in Podlipky.
A. A.: Did you work as doctor after the war?
E. V.: After the war I worked at the Institute of Physical Culture, Chair of swimming. I trained our sportsmen.
A. A.: Do you have favorite pupils?
E. V.: Surely. I married off my favorite pupil Galya Evdoluk and later also her children. She became a trainer in swimming. Rather soon she will retire on a pension. She was like daughter for me, she is a very good person.
A. A.: Evgenia Sergueyevna, how did you manage to be in good health and to be optimistic till present days? What is your secret?
E. V.: All my life I worked tirelessly and everywhere I was or whatever I was doing - I always did it with pleasure. In my opinion, it is the main secret. Without love to your work there is no joy or optimism.
A. A.: Did you both work and go in for sport with pleasure?
E. V.: For example, if the trainer asked me to swim 200 m, I would swim 1000 m. I trained myself everyday before or after the work, usually getting up at 6 a.m.
A. A.: Did you keep to any diet?
E. V.: First of all, I tried to eat dairy produce: milk, cheese, cottage cheese. In the second place, I tried not to have meals before going to bed. In the third place, it is very important not to overeat. And it is also very important for the health - every day I do my morning exercise.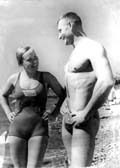 A. A.: How did you manage to keep such open, good attitude to those around you? After all, it was a tough time, many people became exasperated or embittered.
E. V.: I always met very good people and was myself quite benevolent. If I could help somebody I would always do. I never envied anybody, though some people were envious of me.
A. A.: According to our tradition, what would you wish to readers of our magazine?
E. V.: I wish you love, kindness, sound health and long life.