WOMAN VIEW on "art of feminine gender"
Anna Altshuk
Exhibition in Tretiakov Gallery "Art of feminine gender. Women-artists of Russia of XV-XX centuries" found a broad response and press comments. Irrespective of the fact that in general the exhibition was estimated in a positive the tone of the majority of publications revealed indulgent and even scorn or disdain attitude to the participants of this project. And even when these articles were written from the feminist point of view as, for example, in the article of Mr. N. Alexeev in the magazine "Inostranets" or in the article of Mr. F. Romer in "Ezhenedelny Zhurnal ", indulgent and condescending attitude to women artists and curators of the exhibition could be clearly tracked. Thus, probably as a compensation for the use of some ideas of feminine discursive views, the first of the above mentioned critics "jested" about "openings of the body" of one of the woman artists of the beginning of the century; this joke could be described as a pattern of soldier barracks humor.
In this respect I consider expedient to site the opinions on the exhibition in question of its participants, women artists and critics, who write about women art.
Artist Marina Oboukhova: Can we classify art from gender point of view? I am quite sure that this classification does not exist. There is classification only for good and bad art. I know a lot of bad artists and few of good ones, both among men and women, famous and infamous. Though I know a saying: "A woman, who wants to achieve something achieved by a man, should be 10 times better than he".
Woman takes care of her family, brings up her children, fuss over his husband and only then can engage in some creative work, overcoming stereotypes of our still patriarchal society, while men have all advantages in this regard. To become woman-artist one should have a lot of courage.
What do I think about exhibition "Art of feminine gender"? Beyond question the exhibition is a success since it coursed polemics. It is discussed and argued about. Natalie Kamenskaya is a reckless and very persistent woman and she managed to entice away the officials of Tretiakov Gallery with her idea.
I was very interested in the historical part of the exposition. Who could have imagined that Empress Maria Fedorovna enjoyed drawing of simple still life with onions and herring and Vera Moukhina created a very beautiful decorative glass plate, which was completely out of her famous style in art? Add to them ingenious Bashkirtseva, who died at the age of 24 and left to us such masterpieces as "Umbrella". The exhibition is a success.
Artist Natalie Abalakova: I would like to say a few words in connection of Marina Ovsova's article regarding the exhibition "Art of feminine gender". Under the title of "Triumph of Russian Amazons" (newspaper "Moskovsky komsomolets" of January 25, 2002) the article reads: " Feminists can be happy…" The mere fact that the exhibition "Art of feminine gender" was opened in the halls of the National Gallery does not mean winning of new positions in the feminist discursive theory, the latter for a long time being the inseparable part of the modern art. Without competent and multi level interpretation, the very subject - the feminine face of art - can be not only lost under "patch-work quilt" but, after a series of transformations from "woman is a friend of man" into "woman is also a human being" (meaning that she is not worse than male modern artist), completely lost amidst flax thread and numeral…
The same article continues: "The low level of the exposition represents a mere bacchanalia or orgy of the modern woman art…" The participants of the exhibition selected their works for exposition themselves and had a clear idea in what context they would be represented. Perhaps, the "horizontal links" with cultural massive of the woman art within five centuries (different types of technologies and languages of these technologies: embroidery of XVI century and discursive critical works of modern artists, using needle and thread; ascetic art of the twentieth and modern video art with total digitization of the sensitive world) were the very cultural codes of post-modernist retreat with its prevailing irony, reflection and image designing (including their personal image).
"Women art existed, exists and will exist…" (as in the article in question) is represented in the mass media exactly as follows: "relevant", which means to be "dependent and within the jurisdiction of somebody". Critics in the service of the so called actual art (irrespective of the fact whether critics or journalists were male or female) upon collision with the Reality, which this time was represented by the exhibition "Art of feminine gender", disclosed a collective trauma in the form of totalitarian male chauvinism, trying to establish hierarchy of their own value and concept inside "different" system. Nevertheless, for feminist discursive theory, which at present is not quite legible but is in the process of self-determination, the very Reality can become valuable and enriching experience.
Art critic Ludmila Bredikhina: The problem of impossibility of making aesthetic choice due to different gender seems to me to be forced ( though this very problem is always in the center of attraction as soon as a woman artist of this or that period is discussed). Any themes have right for existence. Nobody is exasperated by the Jewish (on the basis of nationality) exhibitions, by emigrants (on the basis of place of residence) exhibitions, by exhibitions of the victims of regime or the same of mentally sick persons (seeming to be very dubious themes). That's not the point that there is a very contradictory reaction on the very concept of "feminism". It is quite obvious that a certain trauma and a certain symptom are hidden there (I described a possible "hostage symptom", symptom of Clara Milich and other symptoms in the literary miscellany "Woman and visual signs" and in the catalogue to the exhibition "Art of feminine gender"). I think that problems of Western feminism - neither theory nor practice! - have nothing to do with the exhibition "Art of feminine gender". One cannot find any formulated feminist concept in it. The exhibition should be given credit of touching the painful subject, demanding comprehension, and of presenting very rich material for its interpretation.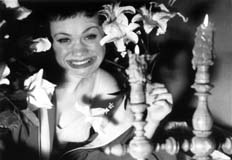 Artist Ludmila Gorlova: Does women art exist at all? It seems to me it does only as a mere statistic fact. Though the history of art due to different reasons is acquainted mostly with the names of male authors, in my subjective opinion it is not important for art who was the author - man or woman. The history knows more than enough works of art created by women.
There is no need nowadays to prove equality or to win territories, everything is on its due place for a long time. In estimation of the works of art the gender question is of no importance. Even if the mane of the author disappear or vanish the work of art will remain.
Belonging of the author to male or female sex leaves a mark on a work of art though it is more typical in the mass art, in preparation of a TV show for women or composing a magazine for men. Certainly, it is interesting from all points of view.
Nowadays I consider sharpening of the difference in male and female interpretation in art more as ironic quoting of old stamps and I look at the modern part of the exhibition "Art of feminine gender" from this point of view, which is quite different from the positions of female authors of previous periods.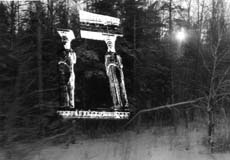 Critic and artist Oksana Sarkisian: In my opinion this event meant a lot first of all for the Tretiakov Gallery, since it never had such a modern exposition with so many video installations, using the modern technologies. It is significant that just the exhibition of women art opens a new stage in exhibition activity of the Tretiakov Gallery.
The exposition cannot be considered perfect but nevertheless it shows how great are the prospects of women art and feminist discursive ideas. The exhibition proves that the sphere of our action is unlimited.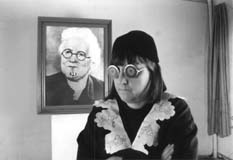 Artist Elena Elaguina: The exhibition demonstrated that women art does not differ at all from the men one. In order to compare the professional level, exhibition "Art of masculine gender" should be opened and then everybody can draw an objective conclusion. The women exhibition at once becomes a target for critics, time and again reverting to the problem of "natural" destination of women.
The exhibition in Tretiakov Gallery at least proved that Russian fine Art has many interesting and original artists. It's another point that the background of the time, when they created their works, was quite different, but unfortunately, this very circumstance was not reflected at the exposition. Probably this gap was expected to be bridged by critics and experts on different periods of Russian art.
The situation both in Russian and Western art for the last thirty years clearly demonstrated that first, there is no united woman prospects, that not all women art is necessarily a feminist one, that modern "post-feminism" of those, who still consider feminist context in art as important for them, exists now in forms quite different from the previous ones. From a more broad outlook the feminist art of seventieth was a certain warning of the fact that modernism with its emphasis on formal values experienced the final stage of its development and was about to give way to post-modernist attitude to art. Critics Norma Broad and Mary D. Garrard insisted that feminist art and art critic helped to initiate the post-modernism. "We are obliged to feminism for basic foundations of post-modernism: for understanding that gender is formed with the help of social but not natural mechanisms; for high appraisal of art which cannot be considered "high art", for example, crafts, video art, performance; for doubts about cult of "genius"…, cultivated in the history of Western art; for perception of the fact that behind outward appearance there is nothing but particular opinions and interests".*. All this complex of ideas and conceptions on variety and polysemantic meaning of events laid the foundation of modern art and art criticism, thus creating more favorable conditions for women artists. Great services of Tretiakov Gallery curators and artist Natalie Kamenskaya, who was at the head of the Creative laboratory INO and who composed the modern part of the exhibition "Art of feminine gender", consist in their aspiration to demonstrate all the variety of ideas and means of realization in women art in the exposition dedicated to the end of XX - beginning of XXI centuries.
Decorative art and needlework, which were considered traditional women occupation,**, were conceptually used with good effect by many women artists as art of great style. Marina Oboukhova embroiders portraits of pilots and steel founders (project "Evidence of life"), imitating pathetic easel painting with needle and thread. Elena Moukhanova spreads out the area of her decorative flower panel over the figure of a sitting woman and video picture (project "Portrait of my garden"). Irina Valdron creates a large-scale expressive panel with the help of purposely negligent applique' work, made of separate shreds. Project "Different types of clothes" by Pershina-Yakimansky (Glukly) is very significant. Critic Ekaterina Andreeva is right, writing about her: "Women essence is not in needle work. It is in cherished organic trauma, which is reminded by spots, curved hysterical lines, uterine decor, hole darning after Freid, outgrowth crystals of glass beads, included in the aesthetic milieu."
Incompletely (since Vera Khlebnikova and Masha Chouikova works were not displayed at the exposition) but rather convincingly works by artists of Moscow school of conceptualism were represented at the exhibition: Elena Elaguina's classical work "Laboratory of great doing", Maria Konstantinova's "Order of the Red Star", made in the form of a soft pillow, Irina Nakhova's "Annunciation" and some other works.
Problems of male/female and womanhood/manhood are played up by many women artists with different degree of humor and objectivity. Very womanish, close to affectation, are the figures on the picture by Bella Matveeva. Concept of womanhood, pictured on video installation by Aidan Salakhova, as though materializes and becomes clearly visible when silhouette of a pregnant woman is imposed on her lively image. Womanish, maternal approach to the world and to its "stronger half" is seen in the photo series "Alone at home' by Tatiana Liberman, who managed to achieve a very lyrical effect in depicting her acquainted men with the help of special light posting; the same approach is seen in monumental decorative "Portraits of my husband" by Natalie Tourchinova.
Presence of works at the exhibition, which essence comes down to destruction of some traditional concepts, sharpens the problems of woman views, attributing to it necessary conceptual level. In photographs by Tatiana Antoshina a woman, usually considered as an object of a man's glance, becomes its subject, occupying active man position in scenes, stage by the woman artist on the basis of classical works; thus, instead of naked women, pictured by Angre in his "Turkish baths", you would find a whole assembly of bare men, who became too soft. In this case she continues the line, started by the author of the present article in the early ninetieth, when project "Girls' toy" was created and displayed at an exhibition, - the project depicted a series of headless Venus, composed of naked torsos of famous Moscow artists and critics.
Having demonstrated the range and variety of women art, the curators of the exhibition used a strange tautology in its appellation: Women-artists of Russia of XV-XX centuries". Critic Nikita Alexeev made a caustic remark: " As soon as I came to know the appellation of the exhibition I started dreaming of exhibition "Men-artists of Russia". Where did this inferiority complex come from to affect our women: curators and artists, writers, poetesses and other creative women, who discriminate feminine gender in designation of different professions? Perhaps, the source for above said attitude to the "feminine suffix" should be looked for in the first half of the XX century, when Tsvetaeva and Akhmatova had to defend their professionalism, demanding that they should be addressed as "poets" but not as "poetesses". May be in the conditions of that time they were right. At that time adjective "feminine" could have been associated with something secondary, minor, not actual. But the time has changed and the exhibition in Tretiiakov Gallery is a fine proof of it. For a long time and practically in all spheres women have displayed themselves equal to men. What for is this self-humiliation? When we do not accept such words, existing in the Russian language, as "authoress, poetess or painteress" (I do not support invention of such new words as "Photographess" for a woman-photograph), we unwillingly strengthen the stereotype that we, women, cannot be high class professionals. But we can be! Why then do we betray our own essence, practically asserting that we can create something valuable only when and if we abandon our feminine nature in ourselves? Why should we give cause for malicious joy of those, who see in it our weakness and thoughtlessness, and not without ground! Is it worth sticking to archaic stereotypes which do not reflect the reality?
---
*Norma Broude & Mary D. Garrard. "Introduction: Feminism and Art in the Twentieth Century // "The Power of Feminist Art"
**Le Corbusier and Osenfun in 1918 insisted on strict hierarchy in art, according to which decorative art is always at the bottom and art of human forms is at the top. Then there followed peremptory explanation of such an approach: "Because we are men" (Norma Broude. "The Pattern and Decoration Movement" // "The Power of Feminist Art")